RSS
DualBIOS™ 3TB+ HDD Desteği (Hybrid EFI Teknolojisi)
Hybrid EFI Technology combines the benefits of GIGABYTE's mature BIOS platform including stability and compatibility with 3rd party products with 3TB+ HDD support from EFI technology, allowing GIGABYTE to offer the best of both worlds through a quick and easy BIOS update using GIGABYTE's @BIOS utility that is freely available from the GIGABYTE website.
GIGABYTE Ultra Durable™ anakartlar, önde gelen Japon imalatçılar tarafından geliştirilmiş olan katı kapasitörlerle donatılmıştır. Ortalama 50.000 saatlik ömre sahip olan bu katı kapasitörler, yüksek uçlu işlemcilerin ve bugünün en zorlayıcı uygulamalarını ve oyunlarını çalıştıran diğer bileşenlerin güç ihtiyacını karşılamak üzere esas olan kararlılık, güvenilirlik ve uzun ömürlülüğü sağlamaktadır.
50,000 Hours All Solid Capacitors

GIGABYTE Ultra Durable motherboards are equipped with all solid capacitors. With an average lifespan of 50,000 hours, these solid capacitors provide the stability, reliability and longevity essential to meet the power needs of high-end processors and other components running today's most demanding applications and games.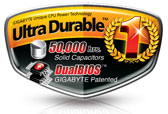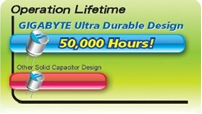 * 50000 hours of work time is calculated at 85℃ ambient temperature.
Intel GMA X4500

Intel Graphics Media Accelerator X4500 support Microsoft DirectX10, Intel® Clear Video Technology, which enable smoother HD playback. The 3D enhancement of GMA X4500 also highly improves the realism and graphics performance for mainstream gaming. Through the support of DVI and HDMI (with HDCP), Intel GMA X4500 brings the ultimate multimedia experience.
3x USB Power Boost

GIGABYTE anakartları, 3x USB güç destekleyicileri sayesinde, USB cihazları için extra güç ve müthiş uyumluluk göstermektedir. Ayrıca GIGABYTE'ın özel USB güç dizaynı, USB cihaz uyumluluğunu arttırmak amacıyla tam voltaj üzerinden verimli çıkış yapılabilmesini etkin bir şekilde düzenlemektedir. Ek olarak,düşük direnç sigortaları, düşük voltaj kullanarak kararlı ve bol miktarda güç dağıtımı sağlamaktadır.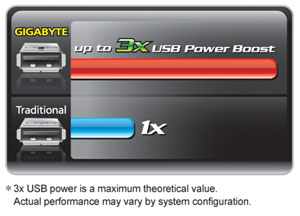 On/Off Şarz Teknolojisi
GIGABYTE On/Off Şarz teknolojisi, kullanıcılara IPhone, IPad veya IPod Touchlarını bilgisayarlarının(bekleme
kapalı, açık) modu ne olursa olsun, şarz etmelerine imkan sunmaktadır. GIGABYTE'ın ikincil yüksek övgüyü hakeden 3X USB Power özelliği sayesinde, On/Off Şarz GIGABYTE anakartlarının USB portlarından daha iyi akım sağlayarak, diğer standart USB portlarına göre bilgisayarınızdan daha hızlı şarz etmenize imkan sunmaktadır...
fazlası
Not: Belirli telefon limitlemelerinden dolayı, kullanıcılar bilgisayar S4/S5 moduna geçerek On/Off Şarz USB portlarından hızlı şarz durumunu engellemeden önce mobil telefonlarını bilgisayara bağlamalıdırlar. Şarz sonuçları modellere göre değişkenlik gösterebilir.
*3X USB power dizayn desteğin varlığı, modellere göre değişkenlik gösterebilir.

108dB Sinyal-Gürültü oranı ile ses desteği


GIGABYTE strongly believes that in 2011, HD audio playback is a standard specification, and as such, we have made Blu-ray audio playback a standard for all of our motherboards.
All of GIGABYTE's 2011 motherboards feature higher capability audio solution with 108dB Signal-to-Noise ratio (SNR) playback quality to deliver high-performance, multi-channel HD audio. SNR is a comparison of the amount of signal to the amount of noise such as hiss present in the signal (expressed in Decibels). A higher SNR equals a better audio experience. For example, 108dB, is a high audio specification, as this means the audio signal is 108dB higher than the level of the noise.
SATA 3Gb/s storage interface

SATA 3Gb/s doubles bus bandwidth from 1.5Gb/s to 3Gb/s. SATA 3Gb/s facilitates bandwidth aggregation for multiple devices, enabling max through put as well as, higher cache through put performance in single drive configurations.
Gigabit LAN connectivity

The Gigabit network interface delivers a high speed LAN connection with data transfer rate up to 1000Mb/s, providing new generation connectivity for the broadband era. Gigabit LAN is ideally for seamless internet connection such as streaming audio and video contents.
GIGABYTE leading technology-Easy Energy Saver
Featuring an advanced proprietary software design, GIGABYTE Easy Energy Saver is able to dynamically adjust CPU power depending on workload, delivering just the right amount of power needed for the task. Coupled with Intel's highly efficient 45nm CPU's, Easy Energy Saver is able to provide exceptional levels of power savings and enhanced power efficiency without sacrificing computing performance.
ErP Lot 6 Desteği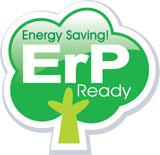 ErP(aynı zamanda Energy-Related Products Directive bilinmektedir),kısmen Avrupa Birliğinin çevresel düzenleme politikasıdır. Çevre bazlı olarak, elektronik cihazların yaygınlaşmasına devam edilerek, enerjiyi etkin kullanımdaki iyileştirmelerle, daha iyi ve yeşil bir yaşam amaçlanmaktadır. GIGABYTE ErP'yi destekleyerek, sisteminizi daha verimli kullanmanıza yardımcı olacak anakartlar üretmektedir.
* Burada sağlanan tüm materyaller yalnızca referans içindir. GIGABYTE ürün teknik özelliklerinde ve ürün ile ilgili bilgilerde haber vermeden önce değişiklik yapma hakkını saklı tutar.
* Belirtilen performans, ara yüz özelliklerini belirleyen yonga seti üreticilerinden veya kurumlarından alınan maksimum teorik ara yüz değerlerine dayanır. Gerçek performans sistem üzerinde kullanılan bileşenlere göre değişkenlik gösterebilir.
* Tüm ticari markalar ve logolar, kendi sahiplerinin mülkiyetindedir.
* Standart PC mimarisi sınırlamaları nedeniyle, bellek miktarının bir kısmı sistem kullanımı için ayrılır ve gerçek bellek boyutu olması gerekenden daha az gösterilir.